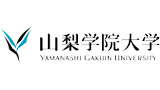 Yamanashi Gakuin University
2 Chome-4-5 Sakaori, Kofu, Yamanashi 400-8575
Overview

Established in 1946, Yamanashi Gakuin University has over 70 years of history educating exceptional students. Today, it is most nationally renowned for achievements in sports and the numerous Olympic athletes that have trained at and graduated from Yamanashi Gakuin University. The university student community totals over 3,670 students across the undergraduate and graduate faculties. iCLA is one of the undergraduate faculties of Yamanashi Gakuin University.
iCLA
The International College of Liberal Arts (iCLA) at Yamanashi Gakuin University is a four-year, American style liberal arts college where the primary language of instruction is English. Students can choose from a wide array of courses as part of an innovative curriculum which leads to a bachelor's degree in International Liberal Arts. iCLA offers students the unique opportunity to immerse themselves in Japanese culture whilst acquiring a contemporary and globally relevant education at our state of the art facilities. We have faculty and staff members from around the world to support students in their academic journey.
Tuition and Other Fees First Year (JPY)
Enrollment Fee 200,000 - (One-time fee)

Tuition 1,216,000 - 
Other fees 380,000 -
Total 1,796,000 -
Accommodation
Living in the iCLA residence halls is our global community. Comfortable and affordable on-campus student accommodation is available to all students. As both international students and Japanese students reside together in our accommodation, there are plenty of opportunities for building global friendships.
Our accommodation is designed so you can find a balance between privacy and social life that best suits your own lifestyle. All students have an individual private bedroom, with eight rooms sharing a common area, mini kitchen, shower rooms, and toilets. Residence halls are connected directly to the iCLA building for convenient access to our classrooms.
Room and Board JPY  
Room&Utilities 564,000/year

Board 1,833/day (3 meals/day)  
Search and apply!
Departments
International College of Liberal Arts (iCLA)

Kofu